When I say I've packed all of my winter clothes already, what that actually means is: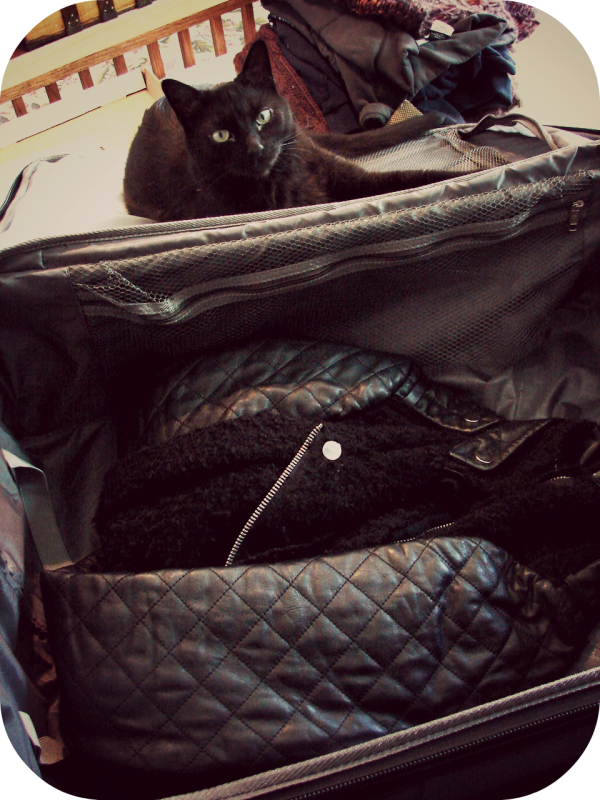 There is a coat in my suitcase.
It's early days yet, at least as far as packing and actual travel planning goes, but I'm starting to think about it more regularly. In a couple months my sister(s), mom and I are hoping to have a rummage sale, in which I hope to get rid of a bunch of clothes I'll never wear again (or never wore in the first place). Sweaters and long-sleeved shirts have definitely passed their use-by date until next fall, so I could start packing a few things to get them out of the way. The catch is that starting to shove all that stuff in the case puts me in about-to-move limbo mode, and I don't know if I'm ready for that yet! ;)
This departure feels different than any other big move I've made because I don't have a place to come back to when term is over, like when I was an undergrad. No matter where I end up, or what I do after I graduate, I'm not planning to come back to the same place. I've decided to downsize pretty massively in order to accommodate the uncertainty and the very good chance that I'll be moving around a little in the next few years. One just never knows.
In about three weeks or so, I should have heard about my financial aid and student confirmation information from the University of Edinburgh, and then can apply for my visa in pretty short order. That requires a quick trip to Milwaukee, the nearest visa application office, for an interview. I'll hear about housing in July (pretty excited about that, actually), and then things really get rolling.
For the first time in this entire 1.5-year process (yes, it has been long and ongoing), I looked at a photograph of Princes Street, Edinburgh the other day and thought, "Holy cats! I'm going to be there! Soon!" It was a nice, exhilarating feeling--the kind I thrive off of when it comes to travel. There's nothing like that particular anticipation! I'm planning on shooting across the pond a few days before move-in to hang out in London, check out some galleries and museums, and revisit some old haunts. Can't wait to book my flight!
Days to Edinburgh move-in: 109