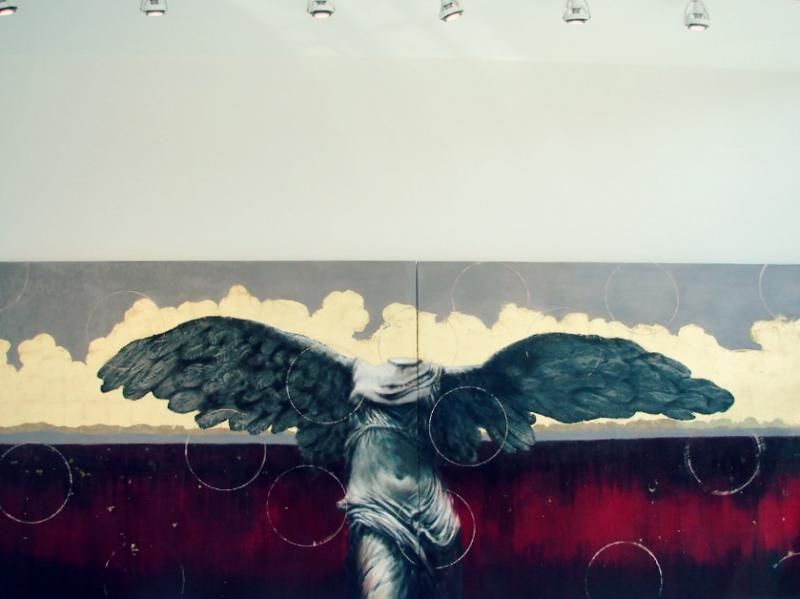 I've been wanting to do this post for some time because I find this artist and his work pretty exciting. The artist would be Tobias Keene, and the work would be monumental! Generations, on display through July 21, 2013, is something a little bit different for this area. It's an exploration into the work of three generations of English artists, Arthur Keene, Sr., Arthur Keene, Jr., and Tobias Keene. Tobias's work is generally more exciting and appealing to me personally, but seeing all three generations' work up in one place makes for a really interesting exhibition.
The show is at The Trout Museum of Art in Appleton, WI, a small museum established in 2010 from what was previously the Appleton Art Center. It is now housed under the umbrella of The Fox Cities Building for the Arts, consisting mainly of the museum, but also now an official home and gathering places for other arts organizations in the area.
Tobias Keene's work is what I want to focus on, largely because it's much different than what one typically finds in this part of Wisconsin. And that's because he's not from Wisconsin! Well, I never. ;)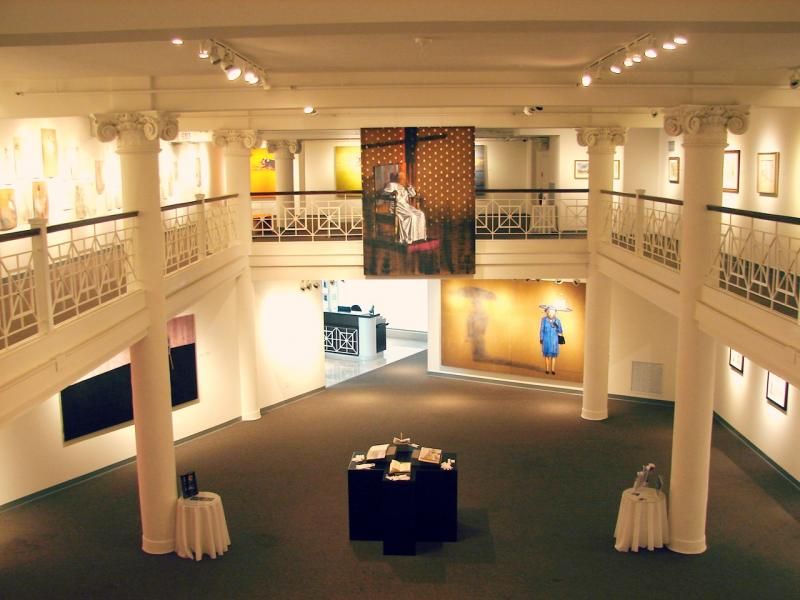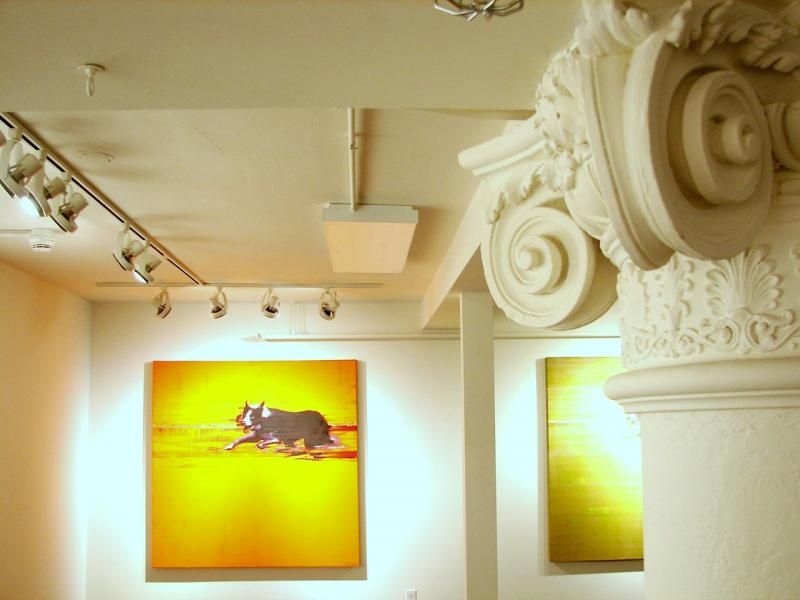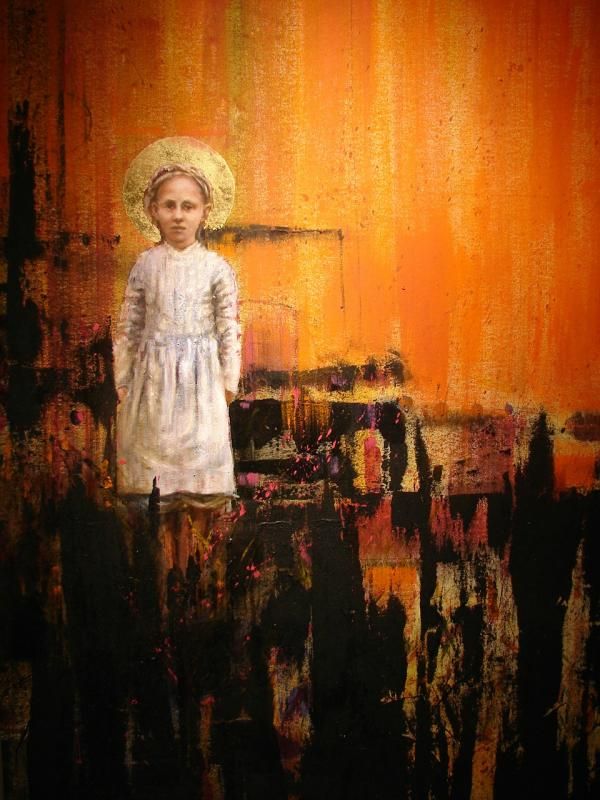 Tobias Keene is currently based in Los Angeles, where he has lived and worked for several years. It might be an understatement to say that his work marks a departure from that of his father and grandfather. Tobias's work has an immediacy about it, a sort of run-stop quality, exemplified by the bright colors, thick textures, and juxtaposition of still-standing figures in environments that are innocently empty, abstracted, and sometimes harsh. He clearly recalls painter Francis Bacon in works such as The Orange Pope (below, top of frame), and in his use of diptych and triptych compositions.
The reason I like these works so much comes down to three things: color, scale, and expressions. The colors, for one, are vivid and explosive, and they draw you in immediately. The scale approaches architectonic, with canvases such as Black is the Beauty of the Brightest Day (Winged Victory) that span entire lengths of wall and reach from floor to ceiling. Some of the paintings clearly indicate some sort of open room, such as in The Girl in the Golden Chair #4, or Standing Red Man (not pictured). And lastly, the expressions on the faces of the subjects are just wonderful: to look into the eyes of the slouching girl in the golden chair, or the small, solemn face of the Forgotten Saint, we are drawn into their worlds, wherever they may be, past the bright colors and uneasy terrain or space they find themselves in -- we're drawn to their humanity. Even The Queen with Umbrella has a thousand words written upon her face.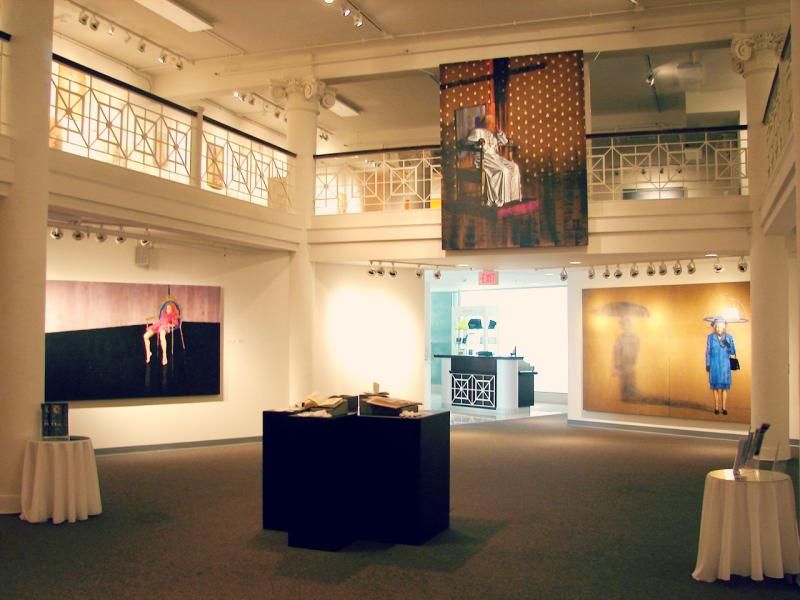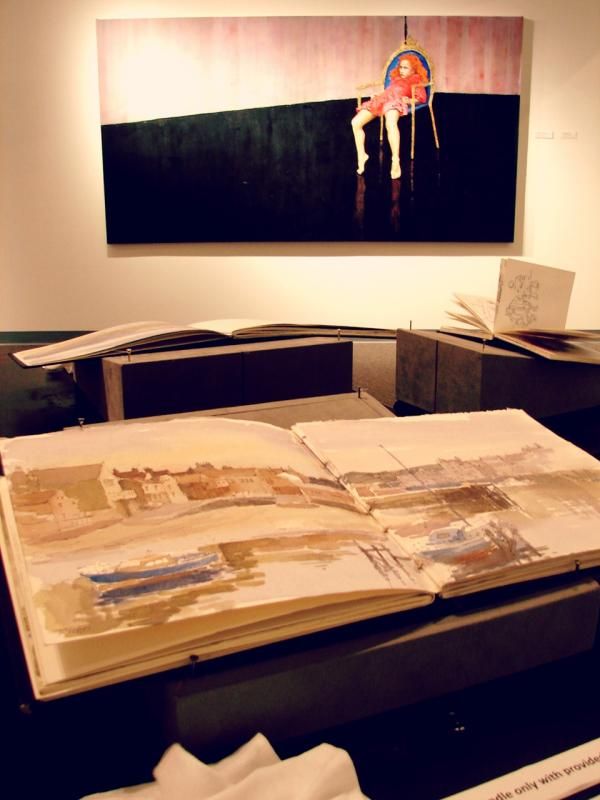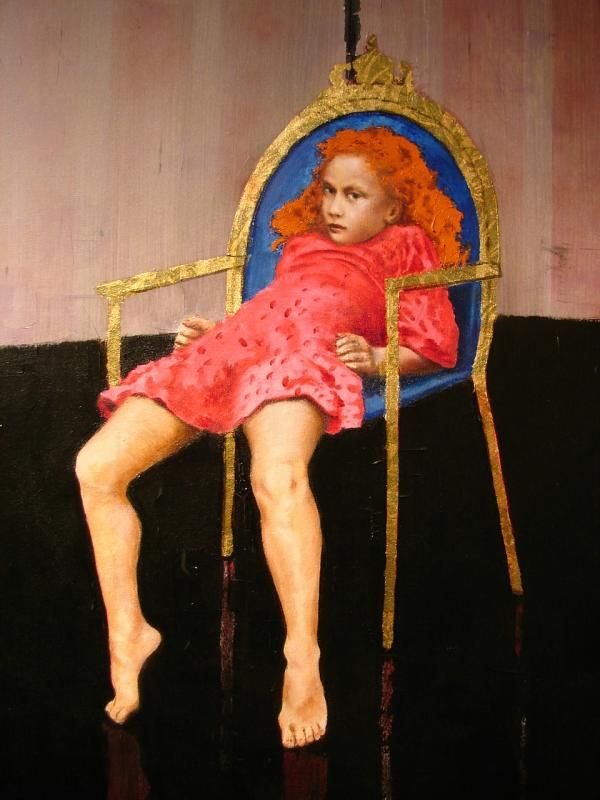 And not only do you have Tobias Keene's large-scale pieces hanging around the gallery, but you get to see them in the context of his previous generations' work. His father and grandfather both subscribed to a method best described as academic--more interested in the studies of figure and movement with numerous sketches to back up that pursuit. Tobias claims he's mostly interested in painting on canvas, frankly skipping the academic drawing aspect, and it's clear that he takes a more visceral approach to his paintings. Therein lies the immediate strength, which comes through in the thickness of the paint and the expressions on his subjects' faces, or the positions of their bodies.
A few walls of the gallery are focused exclusively on Arthur Keene Jr. and Sr., and their more academic sketches and drawings. Also featured are numerous sketchbooks that visitors can page through with cotton gloves.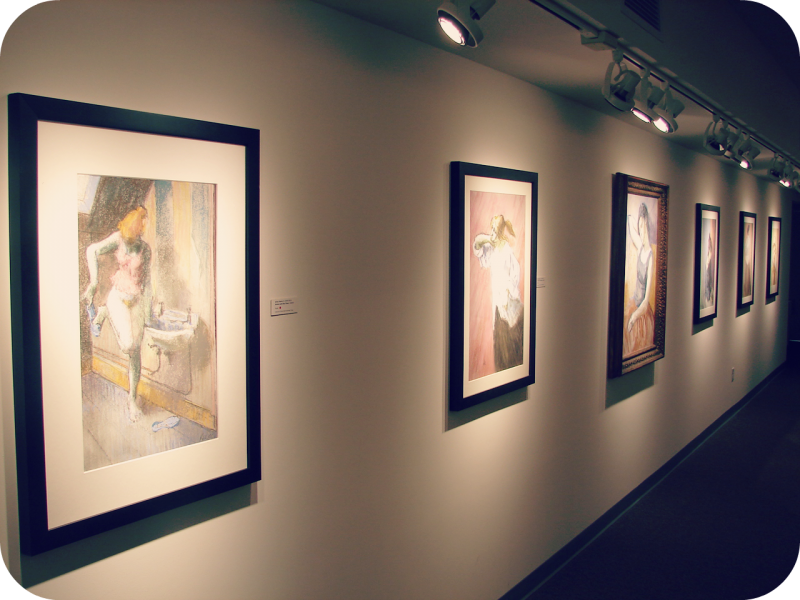 I strongly urge everyone interested in contemporary art, as well as drawing, to check out this show. Information on museum opening hours can be found at
troutmuseum.org
. Tobias has shown in numerous solo and group shows in New York and Los Angeles, including "Fresh" at MOCA Los Angeles and Earl McGrath Gallery. For more information on his exhibition history and other cool items of note, please check out Tobias Keene's website at
tobiaskeene.com
, where you can also find lovely images of his work.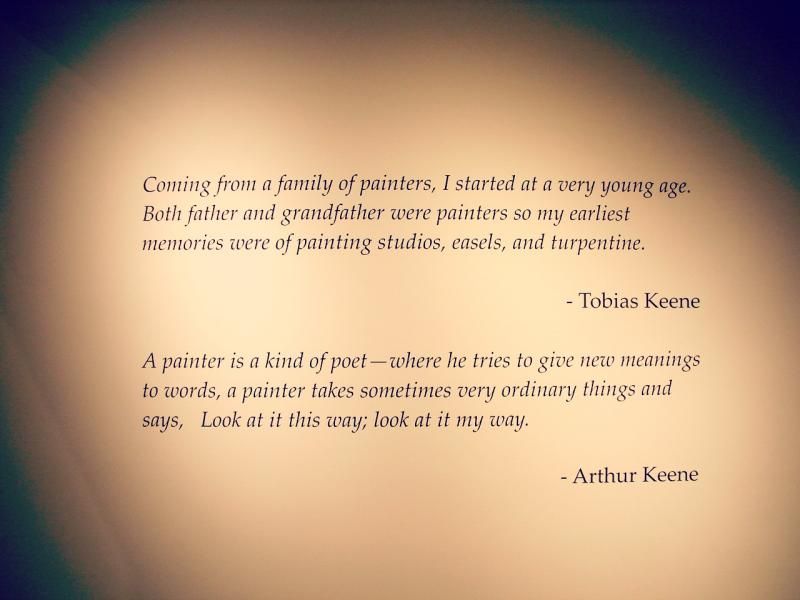 All images taken by me; all original work by Tobias Keene, Arthur Keene, Jr. and Arthur Keene, Sr.