Greenland #62, Soft Pastel on Paper, 2013, 47"x70"
Greenland #56, Soft Pastel on Paper, 2013, 40"x60"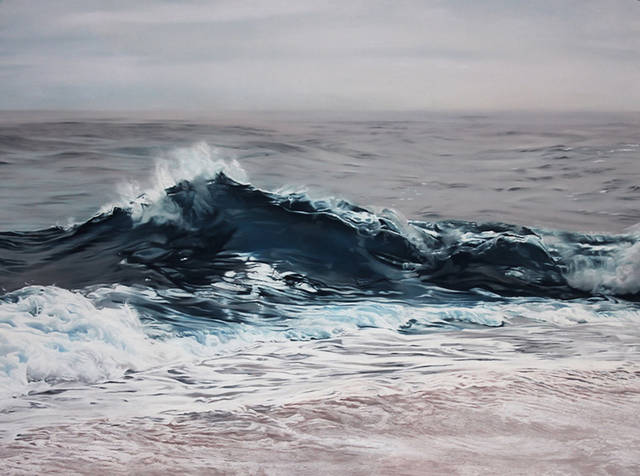 Maldives #5, Soft Pastel on Paper, 2013, 45"x60"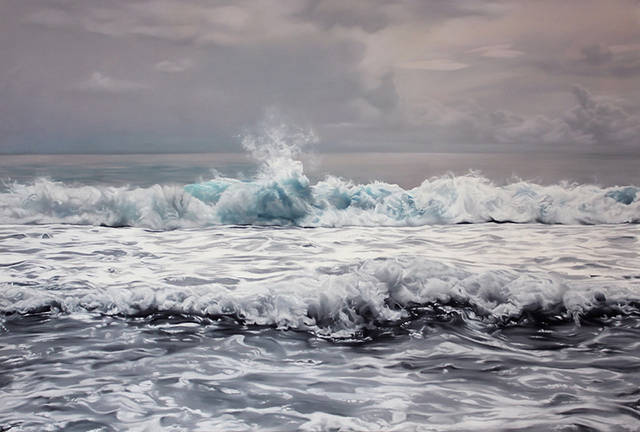 Maldives #2, Soft Pastel on Paper, 2013, 41"x60"
I wouldn't say that I
prefer
a monochrome palette, at least as a rule, but when someone can pull off a series of iceberg or surf paintings, what it says to me is that they have immense control of color. Sometimes monochrome and sometimes not, depending on the conditions, snow and ice, the sea, large expanses of grass, etc. can be a challenge to fill a large canvas, especially with a limited palette. I think that's one reason I was drawn to
Zaria Forman's large-scale pastel drawings
, especially the more recent Arctic ice and sea paintings from a 2012 trip to Greenland (which she led, cool lady!). I also like the series of drawings of the Maldives, which, like the Greenland drawings,
comment on climate change
in two areas that are most obviously already affected and predicted to see some of the most intense impact.
I've always been, and will probably always be drawn to images of the sea. Wide expanses, reflections, horizons, frothy surf, breaking waves... Part of it is having an early connection to the Pacific coast, but my dad has also painted the ocean throughout his career as an artist. And the oceans, so vast yet delineated on every map, are still an incredibly mysterious and powerful force on our little planet.
Forman's handling of pastel is fantastic. I didn't even know it was pastel--I had automatically assumed oil. In this case, due to the scale and the material, I feel that these would absolutely be best appreciated in person, since pastel is such a challenging medium. Amusingly, some of her drawings are featured in the Netflix Original Series
House of Cards
, season 1. Check out
Forman's exhibitions here
with more screenshots of the work featured in the show.
I love the moody intensity. An iceberg sitting on a calm sea is almost too isolated, and knowing Forman is interested in climate change, it's hard not to imagine being able to hear hollow cracks, or waiting in suspense for the moment when the calm sea is disrupted by falling ice. Her surf paintings are cool and dramatic, capturing the same intensity in the brief splash of a wave or one about to break. Far from being "pictures of water," they are sensitive to the environment, to the light. I'll definitely be keeping an eye on her work from now on.
House of Cards, Season 1
Cheers!
Kate xx